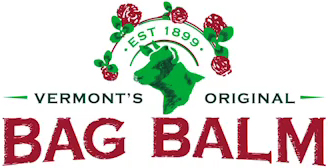 Bag Balm
Bag Balm Products
More Choices Available
Bag Balm

Bag Balm Pet Paw and Nose Moisturizer
FREE shipping over $49
More Choices Available
Bag Balm

Bag Balm Pet Paw and Nose Moisturizer with CBD
FREE shipping over $49
Bag Balm Skin Care for Pets Since 1899
Vermont's original Bag Balm provides relief for dry, cracked skin, hands, lips, knees, feet – you name it! Since 1899, Bag Balm has been intensely moisturizing and helping protect skin with four simple ingredients – even in the toughest conditions. Bag Balm works wonders for the whole family – for dry paws, it's a dog's best friend. Bag Balm is an incredibly versatile, long-lasting moisturizer, with only 4 simple ingredients. And it's been working hard to repair skin since 1899. Everywhere, skin needs more than what your average dime-store moisturizer can give it. That's why there's Bag Balm: the legendary rescue balm born on the farms of Vermont's rugged Northeast Kingdom. Bag Balm Works Wonders.
Born in Vermont - Bag Balm Products for the Driest Skin Conditions
With its far northeast climate, harsh winter weather led to the driest of skin conditions. As you might guess from such an environment, the treasure of the Northeast Kingdom isn't gold or silver, it's an authentic skin-saving formula called Bag Balm.
In 1899, rumors flew around the Northeast Kingdom about a miraculous salve for chafed and cracked cow udders concocted by a pharmacist in Wells River. So one fateful morning in 1900, a Lyndonville farmer named John L. Norris saddled his best horse and rode 30 long miles to find out what the fuss was about. The minute he tried it on the first cow, John Norris knew what he had to do. He scraped up every penny he could lay his rough hands-on to buy the formula and all the rights to market it. Bag Balm officially set down roots after John hired a product designer to create the distinctive green tin with a cow's head and Vermont's indigenous red clover on the cover. The legend was born, and it was too big to stay in the barn.